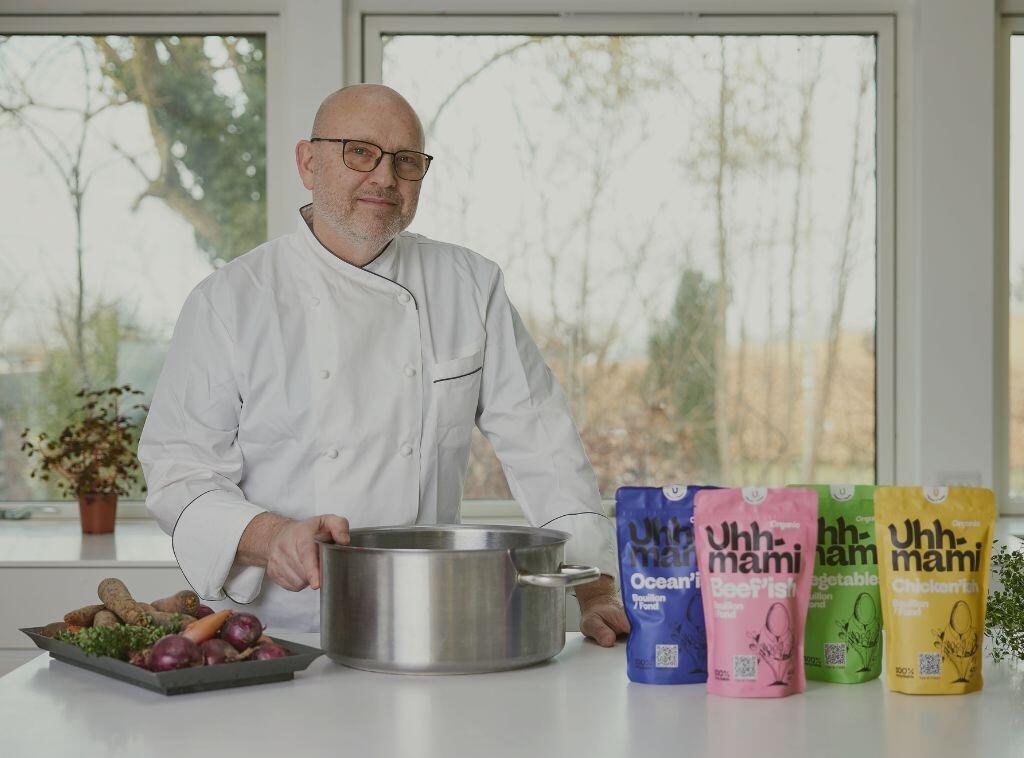 Product News
Danish chef develops the world's best new organic product
The biggest organic trade fair in the world, BioFach, was just held in Nuremberg, and one of the highlights of the fair is when the 35,000 attendees from 135 countries get to choose the best new product of the year. This year's winner of the prestigious "Best New Product Award 2023" was Danish entrepreneur and chef Frank Lantz for his organic and vegan granules – Uhhmami – designed to infuse plant-based dishes with a profusion of flavour. The intense savouriness of the granules denotes the technical skill of Uhhmami's creator, which was exactly what astounded the visitors, who included major foreign chains.
Intense flavours such as 'bacon', 'truffle' and 'cheese' – which instantly enhance the savouriness of vegan dishes – are the secret to Frank Lantz's award-winning series of bouillons and granules named Uhhmami. In developing the product range, the Danish chef was deeply inspired by classic gourmet cuisine where bouillon has been adding flavour for decades.
"I developed the Uhhmami series to make eating a plant-based diet an easy, flavourful experience. Cooking vegan and vegetarian dishes often involves a lot of time-consuming steps intended to enhance and enrich the taste, such as fermenting or grilling vegetables. The Uhhmami granules are umami cluster bombs that instantly add the intense, deep and full-bodied taste sought by many as they go about making green everyday meals," explains Frank Lantz, a qualified chef who has been a cuisine entrepreneur for decades.
Taste prevailed
Frank Lantz has brilliantly exploited a gap in the market in both the foodservice and retail sectors, but particularly abroad where plant-based diets are rapidly gaining wider acceptance than in Denmark, explains Pernille Bundgård, International Market Director for Organic Denmark, which works to ensure the success of Denmark's organic export ventures:
"There are many reasons why Uhhmami won this year's award. Various flavour enhancers and bouillons are already available in the market, so the product type is familiar, but in terms of quality and taste, Uhhmami is in a league of its own. Several of the major foreign chains were somewhat sceptical at first, but once they tasted the products, they were knocked off their feet. And in addition to the taste, Uhhmami is distinguished by being carefully conceived in every aspect. The granules manifest resounding artisanal quality as they are easy to use, and the packaging is elegantly designed and comes in sizes that meet the needs of both the retail and foodservice sectors. A Dane winning this award is huge," concludes Pernille Bundgård, who in her export manager career has only once before experienced a Danish company being lauded for being behind the best new organic product. That was in 2018 when Copenhagen Sparkling Tea won the prestigious award.
Danish innovation is a hit abroad
According to Pernille Bundgård, it is because of a unique, innovative – yet uncompromising – approach to quality and being able to pinpoint new trends that Danish entrepreneurs like Frank Lantz so impress international players, where Uhhmami has already attracted much more attention than in Denmark:
"The plant-based diet trend is clearly much stronger abroad, such as in Germany, which has a big appetite for our products. We've always believed that Uhhmami can fill a gap both in Denmark and abroad and that we should be uncompromising in terms of quality, ingredients and taste. But I'm truly astonished and proud that our products have been so well received and that they have gone on to beat thousands of new products from all over the world," says Frank Lantz, who launched his Uhhmami series last year.
Vegan beef'ish, blue cheese'ish and bacon'ish
Uhhmami received BioFach's "Best New Product Award 2023" for its series Uhhmami – BACON'ish, BEEF'ish, BLUE CHEESE'ish, CHEESE'ish, CHICKEN'ish, OCEAN'ish, TRUFFLE'ish and VEGETABLES. BioFach is the biggest organic trade fair in the world, and the award's distinguishing feature is that the winner is chosen by the 35,000 visitors from 135 countries. There were 2,765 exhibitors at BioFach 2023, where Danish Uhhmami took home the prize.
--

About Uhhmami
After just one year, Uhhmami is already exporting its products to eight countries: France, Germany, Belgium, Austria, Sweden, Norway, Ecuador and Vietnam, and the company is currently negotiating launches in seven more countries. Frank Lantz developed all the products himself and has had them produced. He worked on the products alone for a couple of years, but since things started to take off, he has been assisted by friend and investor Thomas Gjørup (CEO, TAG Holding ApS, and former board member of Erik Bagger, Top Toy, Shape Robotics, etc.).
Uhhmami comes in eight varieties, each named for the taste they evoke: BACON'ish, BEEF'ish, BLUE CHEESE'ish, CHEESE'ish, CHICKEN'ish, OCEAN'ish, TRUFFLE'ish and VEGETABLES. All the Uhhmami products are dried, meaning that they don't need to be refrigerated and don't contain water (which takes up space, weighs more) so carbon emissions from transporting the product are lower, too. For instance, 20 grams of Uhhmami is enough for one litre of broth.
The granules are distinguished by being suitable for use in a wide variety of segments, such as: 1) retail; 2) foodservice, restaurant and catering; and 3) industrial, large-scale production. All products are certified organic, V-Label Vegan and Halal.
In Denmark, the products are retailed by Meny supermarkets and distributed in the foodservice sector through Hørkram, Dansk Cater, Inco, etc. The design was developed by AMCOPENHAGEN, and the small, foodie sketch was done by Lars Nørregård. Uhhmami is a patented trademark.
About the founder of Uhhmami
Does the name Frank Lantz ring a bell? The achievements of this entrepreneur, a qualified chef, include being in charge of the Danish Royal Family's New Year's Eve banquet, and he cemented his name as a top chef in the 1990s and early 2000s with the iconic Krogs Fiskerestaurant. In recent decades, he has worked in many corners of the food industry from foodtech to product development and the production of high-quality bake-off bread, for instance, which he supplies to Irma, Coop, 7-Eleven, Q8, Norwegian, SAS and others. He has even developed plant-based cold cuts for Irma.
Further details are available on https://www.uhhmami.com