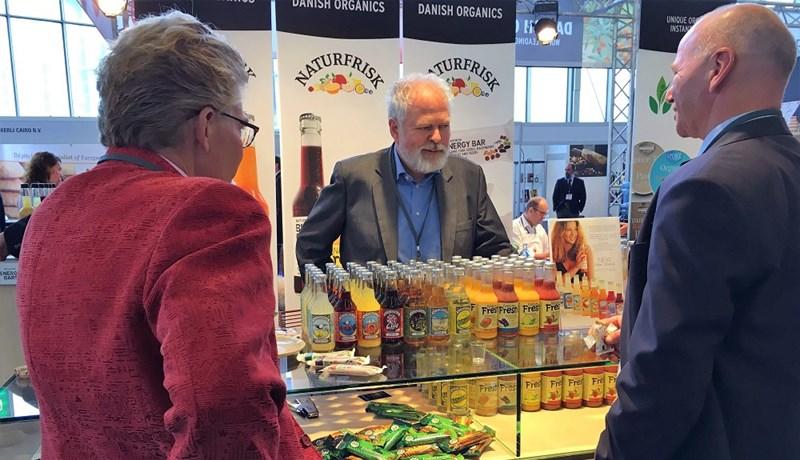 News
Danish food production companies ready to sell more organic products in the Netherlands.
The current surge of organic food sales in the Netherlands shows that the Dutch have acquired a taste for organic food - and Danish companies are prepared to supply the Dutch grocery aisles with the much needed organic goods. The coming two days numerous Danish Companies will attend an organic export promotion arranged by Organic Denmark at the PLMA food exhibition in Amsterdam.
As an increasing amount of Dutch consumers choose organic products, Danish organic goods should be among the choices for the Dutch consumers. Aiming to ensure this several Danish Companies will, during the course of the next two days, partake in an organic export promotion held at the PLMA food exhibition in Amsterdam.
- The last few years the sales of organic products has grown by 15 % every year. The Dutch are increasingly concerned with animal welfare, health, quality and transparency in food production and consequently in organic production. The Dutch organic market is still relatively young and Danish companies therefore have an opportunity to contribute to it with a multitude of exciting and innovative organic products. It's evident that there's a real potential for increased organic export to the country, says Helene Birk, International Marketing Director in Organic Denmark.
It is the fifth year that Organic Denmark will be arranging a 100% organic exhibit at PLMA. The Netherlands is currently Denmark's fourth biggest export market, following Germany, Sweden and France. However, only six per cent of the Danish organic export in 2015 went to the Netherlands.
Power in bringing together Danish organic companies
At PLMA foreign purchasers will have the opportunity of experiencing everything from Danish organic vegetables, meats and charcuteri, to raw snacks and chocolates, as well as gluten- and dairy free products.
- Denmark is known for the high quality of food and food safety, in addition to being the world's leading organic nation. We have the highest percentage of organic sales within food sales, which is currently at roughly 10 %, underlining the country's strong organic image. Furthermore, Danish companies are far ahead of their Dutch counterparts in regards to keeping up with food trends. At the exhibit the Danish organic companies will therefore be present at a common booth and we expect - as in previous years - that there will be a significant amount of interest from purchasers, says Helene Birk.
Urtekram sees huge potential
Urtekram is a Danish organic company, which has already managed to establish itself on the Dutch market.
- The Netherlands has become one of our most important export markets outside of Scandinavia. Roughly 15% of all our exports go to Dutch grocery chains and health food stores. Presently we mostly sell organic skin and hair care products, but we see a huge potential in expanding our exports here to include food products, which is why we are attending the 100% Danish organic common booth at PLMA. We can see that the demand for organic products is increasing. We believe the time is right for organic products in the Netherlands and have high expectations for the exhibit, says Bo Iversen Head of Sales hos Urtekram.
FACTS:
The sales of organic products in the Netherlands are 4 percent of the total amount of food sales. In Denmark the organic percentage share is 9,6 percent.
In 2015 the total export value of Danish organic products was 265 million Euro, which means an increase of 15 % compared to 2014.
Organic Denmark expects that the total amount of Danish organic export will be 470 million Euro in 2020.
Organic Denmark has 195 member companies which stand for 95 percent of the total Danish organic production.