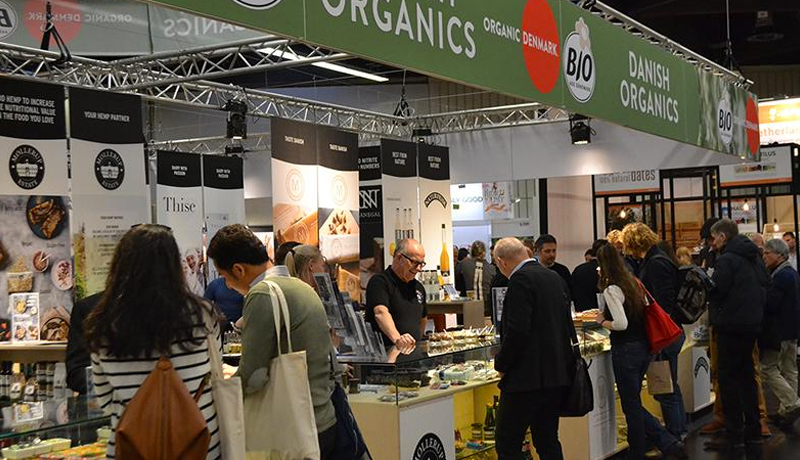 Press
Danish innovation drives export campaign
Foreign consumers have a taste for Danish organic foods, which are known for being innovative. Thirty-two Danish companies intend to exploit this next week when they seek to find new export agreements at the world's largest organic trade fair – BioFach, in Germany. The Danish Minister for Environment and Food, Jakob Ellemann-Jensen, will visit the joint Danish stand, which is being organised by Organic Denmark and Bio Aus Dänemark.
Danish organic exports have almost doubled in four years. The Danish Minister for Environment and Food and 32 Danish companies are ready to build on this positive trend when BioFach – the world's largest organic trade fair – opens its doors on 13 February in Nuremberg in southern Germany.
At the joint Danish stand, organised by Organic Denmark and Bio Aus Dänemark, the companies will present organic dairy products, eggs, meat, cereal products, beverages, chocolate, vegan products and much more, to the many foreign purchasers at the trade fair. More than 50,000 international decision-makers will immerse themselves in a whirlwind of organic products from around the world over four days.
In the midst of all the buzz, the Danish companies at the joint stand are clearly set apart from the rest, notes Pernille Bundgård, International Market Director at Organic Denmark.
"Danes buy more organic products than anyone else in the world. 13.3 per cent of all the products we put in the shopping trolley are organic. We are also demanding ecology in more and more product groups. Danish companies are therefore constantly developing exciting new organic products, and purchasers from many countries have noticed this. The export potential is thus very large. The exhibitors at this year's BioFach provide a good snapshot of the diversity and strong innovation that characterises Danish organic products," says Pernille Bundgård.
New spring beverages from Funen and great export ambitions
Beverage producer Naturfrisk from Funen is one of the companies attending BioFach. Naturfrisk is sharing the stand with Ørbæk organic brewery. They are launching two new low-alcohol organic beers at the trade fair.
"Consumers like the taste of hops, and also want to be able to drive a vehicle afterwards. We expect this to become a major trend. Our Low Spring is similar to Ørbæk's well-known Fynsk Forår, and we also make an IPA type non-alcoholic beer. These are not just lager with a low alcohol content, but specialty beers. We export about 30 per cent of sales, particularly to the Netherlands and Sweden. Denmark is a small country with strong competition on organic products and many microbreweries, so exports are important to us," says Niels Rømer, co-owner of Naturfrisk. He also reports that the two organic specialty beers will be sold in Coop stores in Denmark from spring, together with new variants of Naturfrisk soft drinks.
Egg packing centre in Hadsund has global ambitions
Dairy and egg products are among the major export categories for Danish organic produce. DAVA Foods in Hadsund, the largest egg packing centre in the Nordic region, is also exhibiting at the joint Danish stand. Export Director Jens Madsen has high expectations about the launch of a newly developed kitchen appliance. It allows hotels, cafés and canteens to make organic scrambled eggs in 15 seconds.
"As an egg exporter, it is a huge advantage to come from Denmark, which is renowned for its high food safety standards. This means that we can compete on quality rather than price. We see the greatest
potential in Germany, the Middle East and Asia, where organic eggs are in short supply. We already export to Dubai, and our egg sales to the Edeka and Bio Company supermarket chains in the Berlin region are growing steadily, but we want to make contact with more potential customers," says Jens Madsen.
Danish Minister for Environment and Food opens export campaign for Danish organic companies
Strong Danish innovation has helped pave the way for almost DKK 3 billion in exports of Danish organic products in 2017 (the latest figures available). Exports rose an impressive 21 per cent compared to 2016. A minister is ready to build on this strong growth when BioFach commences.
Jakob Ellemann-Jensen, the Danish Minister for Environment and Food, will cut the ribbon and open the joint Danish stand at 9.00 am on 13 February. After a tour of the stand, he will take part in a round table meeting with representatives from many of the Danish companies. The meeting will focus on this question: How can we further increase organic food exports?
BioFach runs from 13-16 February.
See all the exhibitors at the joint Danish stand at BioFach here
This figure shows growth in exports of Danish organic products, which reached DKK 2,951 million in 2017: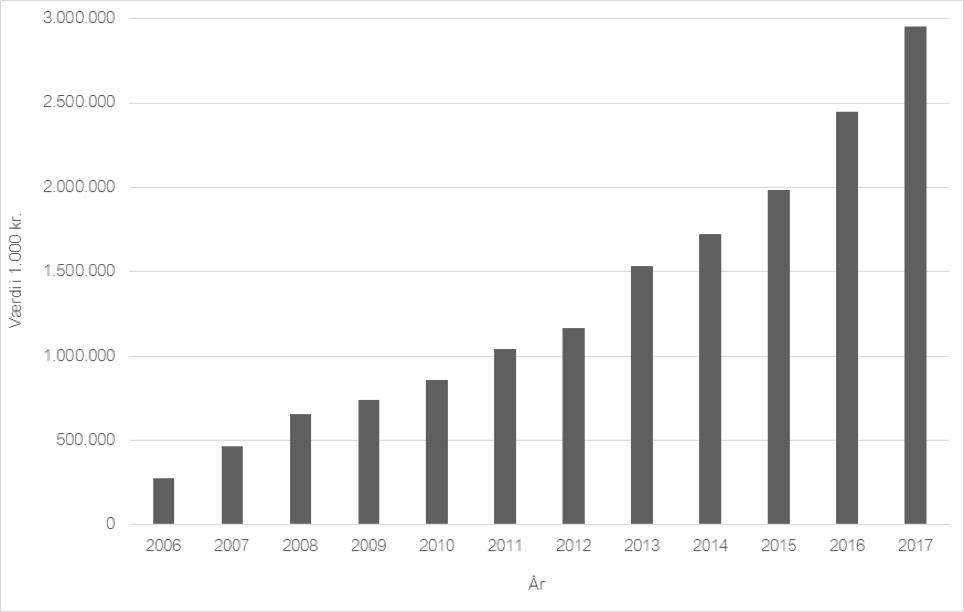 For further information, please contact:
Niels Rømer, Co-owner, Naturfrisk, tel. +45 6533 2111, niels@naturfrisk.dk
Jens Madsen, Export Director, DAVA Foods, tel. +45 2333 4849, jma@davafoods.com
Pernille Bundgård, International Market Director, Organic Denmark, tel. +45 6059 5313, pbs@okologi.dk
Jakob Brandt, PR, Organic Denmark, tel. +45 2889 9868, lsk@okologi.dk