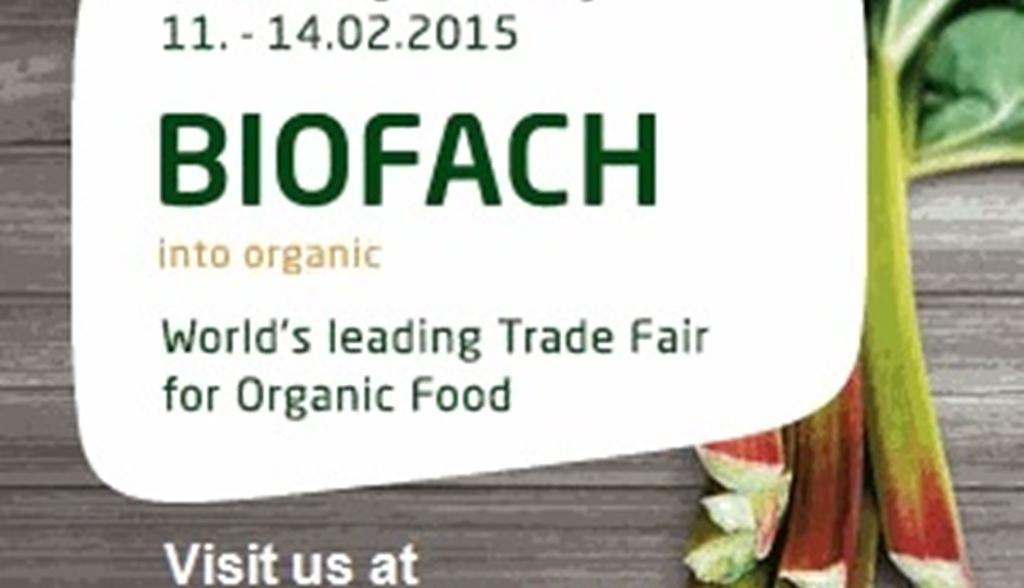 News
Experience innovative Danish Organic Companies at BioFach 2015
Discover the diversity and the great innovative spirit of Danish organic companies at BioFach 2015, the leading organic trade fair in the world. 18 Danish exhibitors are presenting their organic products at the joint Danish stand, which is organised by the Danish non-profit association Organic Denmark. The Minister for Food, Agriculture and Fisheries will attend the stand of Organic Denmark regarding the 25th anniversary of the organic-label.
This year, 18 professional, innovative and highly experienced Danish producers of organic products will participate in the BioFach trade fair, the leading trade fair for organic products, which will be held from the 11th – 14th of February 2015 in Nuremberg, Germany. The companies will present themselves and their diverse organic products at the joint stand of Organic Denmark - stand 131 and 137, hall 5.
- Also this year at BioFach, our companies represent a broad selection of what Denmark has to offer regarding organic products. The Danish companies are constantly developing new and exciting products for everyday use and for the demanding customer. The longstanding traditions of organic product making and the innovative ability at the organic companies are among the main reasons that the export of organic products from Denmark are booming, says Helene Birk, export manager of Organic Denmark.
The Danish Minister for Food, Agriculture and Fisheries will attend the stand of Organic Denmark
25 years ago, Denmark was the first country in the world to introduce a state controlled organic label, which is known as the red Ø-label. Ø stands for økologi – the Danish word for organics. See the label here.
- This label is hugely important for the success of Danish organic companies in today´s Denmark. 98 percent of the Danish population know the red Ø-label and eight out of ten trusts the label. Organic products are easier to find in the Danes shopping baskets than in any other country in the world. About eight percent of all the food bought in Denmark is organic- that is a world record, says Helene Birk.
Regarding the anniversary of the Ø-label the Danish Minister for Food, Agriculture and Fisheries Dan Jørgensen will attend the opening of BioFach and visit the joint stand of Organic Denmark on Wednesday the 11th of February 12:00 AM.
Discover the diversity of Danish organic products
Visitors of the Danish joint stand will be able to discover a wide diversity of interesting organic products. Among the exhibitors you will find the organic butcher-corporation Friland and the egg-corporation DANÆG, which already are well known names on the German market.
This year it will be possible to discover new age beverages from Sealand Birk that are a sweet, healthy and certified organic alternative to artificially sweetened drinks. Furthermore, you can discover an interesting series of soft drinks and smoothies under the brand name Naturfrisk.
See all exhibitors at www.organic-denmark.dk
Organic Denmark: Hall 5, stand 5-131 and 5-137
About Organic Denmark Organic Denmark, in Denmark knows as "Økologisk Landsforening", is an organisation for organic farmers, companies and consumers interested in organics in Denmark and has approximately 4000 members. Organic Denmark supports its business members in marketing their organic products for strengthening the overall position of organics in Denmark.
For more information about Organic Denmark, Danish organic companies and other interesting facts about Danish organics, you can visit Organic Denmark's international website at www.organicdenmark.dk.
For more information on this topic you can contact Ms Helene Birk, Export Manager at Organic Denmark, hbi@okologi.dk, phone +45 23 30 00 10 or
Ms Line Skouboe, press officer at Organic Denmark, lsk@okologi.dk, phone +45 87 32 27 14, mobile +45 24 42 69 52
Organic Denmark's website at www.organicdenmark.dk
Organic produce in Denmark – a success story
Background and facts
Denmark has the world's highest market share on organics: 7.8 % of all food sales were organic, according to the Danish authority for statistics, Statistics Denmark.
Top export-countries for Danish organics are Germany, Sweden, the Netherlands and France
Denmark looks back on a long tradition of organic produce: 25 years ago, state controls were introduced for organic products and Denmark was the first country in the world to do so. Danish consumers have a high trust in organic food. Product manufacturers who fulfil the necessary requirements are permitted to brand their goods with the Danish organic label, the "Ø-label", a label that consumers recognise and trust.
The Danish government has set the objective that by 2020, a total of 60% of ingredients for meals in public cuisine must be organic. In total half a million meals are daily prepared in public institutions such as hospitals, schools, nurseries and care homes.
Some of the biggest companies across Denmark offer their employees organic meals in their canteens.
Founding the research centre 'International Centre for Research in Organic Food Systems (ICROFS)' in 2008, Denmark has become a leading country in researching organic agriculture, which also benefits organic production.