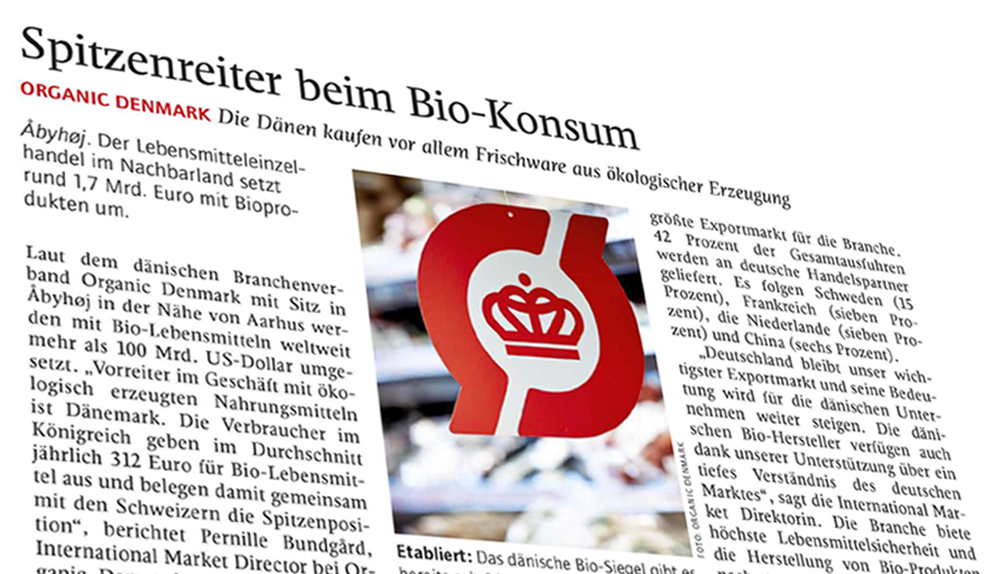 News
Lebensmittel Zeitung on Danish Organic
Lebensmittel Zeitung, the leading trade and business newspaper of the consumer goods sector in Germany has just interviewed our International Market Director Pernille Bundgård.
The German newspaper, distributed to more than 51.000 food retail executives, explains how the food retail trade in their neighbouring country has a turnover of around 1.7 billion euros within organic products. One reason for the success story is the unique Danish ecological model established in 1987.
Here are some of the highlights mentioned by the journalist:
According to the Danish industry association Organic Denmark, based in Åbyhøj not far from Aarhus, more than 100 billion US dollars are sold worldwide within organic food. "Denmark is a pioneer when it comes to the organic food business. Consumers in the kingdom spend an average of 312 euros a year on organic food, putting it at the top of the list together with the Swiss," says Pernille Bundgård, For comparison: In Germany, consumers buy organic products worth around 100 euros a year.
"Germany remains our most important export market and its importance will continue to grow for Danish companies. Thanks also to our support, Danish organic producers have a deep understanding of the German market," says the International Market Director. The industry offers the highest level of food safety and the production of organic products according to strictly controlled criteria across all categories. "Thanks to our proximity to Germany, we are ideally positioned to meet the growing demand for organic products from 80 million people".
If you are interested in further information or a press meeting with representatives from Organic Denmark, please contact Pernille Bundgård, International Market Director, pbs@okologi.dk