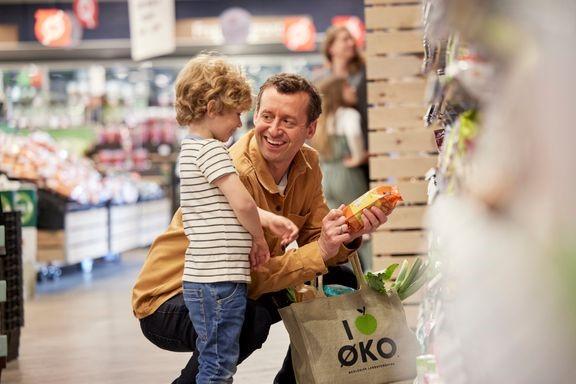 News
NEW FIGURES: Sales of organic products unchanged in 2021
2020 was a year of coronavirus, where organic products broke all retail records with a 14 per cent increase in sales. The numbers stabilised in 2021 and were, at DKK 16 billion, similar to those in 2020, according to the 2021 statement from Statistics Denmark.
In 2021, Danes bought organic food products for the same amount as in 2020, i.e. DKK 16.0 billion, including online sales. This means that the record-breaking increase in sales of organic food products from the first year of COVID-19, where Danes ate most meals at home, have now stabilised at the same level.
"It was expected, and it's really great that the growth has stabilised after such a boost in sales. The situation for organic products is robust, and consumers are still prioritising clean food products, animal welfare, clean groundwater and biodiversity," says Birgitte Jørgensen, Retail Market Director at Organic Denmark.
Organic fruit and vegetable sales still increasing
Fruit and vegetables is the largest organic product group with sales of DKK 6 billion, thus accounting for 37 per cent of organic food sales in 2021. From 2020 to 2021, growth was at 2.2 per cent.
"We are delighted that fruit and vegetable sales are still increasing. This is entirely in line with Organic Denmark's goal of putting more organic greens on the plate and the green transition we fight for."
Consumers prioritising organic products in 2022
At Organic Denmark, we estimate that 2022 will also be an unusual year. Rising food prices, caused by inflation, are putting pressure on sales of both conventional and organic foods.
"The preliminary reports from the retail industry suggest that organic sales are also affected. But we're seeing that consumers still want to prioritise organic products and the values behind that choice. Once consumers have made the choice to buy clean foods for their family, they stick to it. Some are switching to cheaper brands, moving their shopping to discount stores or cutting back on luxury," says Birgitte Jørgensen and points out that core organic consumers typically make their food choices based on criteria other than price.
"To them, it's about values and helping to ensure a sustainable food system through their consumer choices. Organic products rest on a strong foundation that can stand a change in the wind. We've seen it before. And there's no doubt that consumers will continue to support a food system that cares for the climate, drinking water, animal welfare and biodiversity – both now and in the future," says Birgitte Jørgensen.