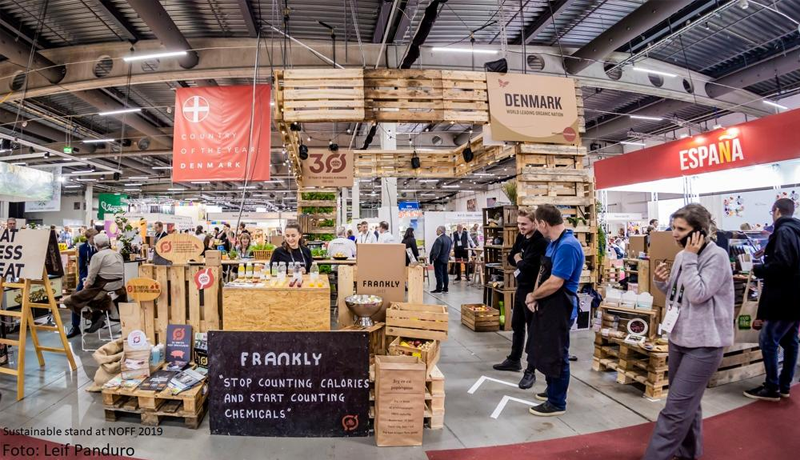 News
Organic Denmark builds sustainable stand at Nordic Organic Food Fair 2019
Organic Denmark presented its new concept of a sustainable stand at Nordic Organic Food Fair 2019. As the theme of the fair was sustainability, Organic Denmark took the decision of building a joint stand that focuses on sustainability, reusable materials, minimizing waste and energy consumption and last but not least, network.
With this in mind, the project that was initiated in March 2019, was successfully brought to life last week, on 13th and 14th of November, where Organic Denmark and 17 organic Danish producers exhibited together on an "out of the ordinary" stand built of pallets, apple boxes, reusable cardboard, and plants.
Country of the Year
Moreover, for its commitment to organics and the work done to increase the production and consumption of organic products, Denmark was named Country of the Year at the fair.
"We are very proud to name Denmark first Country of the Year at Nordic Organic Food Fair 2019. Organic Demark has been a very important partner for the fair, since we launched it, 10 years ago", says Carsen Holm, managing director at Diversified Communications.
The prize was received by Organic Denmark's CEO, Helle Borup Friberg, which hold the opening speech.
"It is a great honor to be named Country of the Year at Nordic Organic Food Fair 2019. At Organic Denmark we have, in more than two centuries, working on developing and expanding the organic food industry, as well as organic farming, and we work daily to meet the needs of the society and consumers," says the CEO of Organic Denmark.
The sustainable Danish organic joint stand at Nordic Organic Food Fair received extra attention during the fair and it attracted buyers and international decision-makers from Denmark, Sweden and the rest of the world.