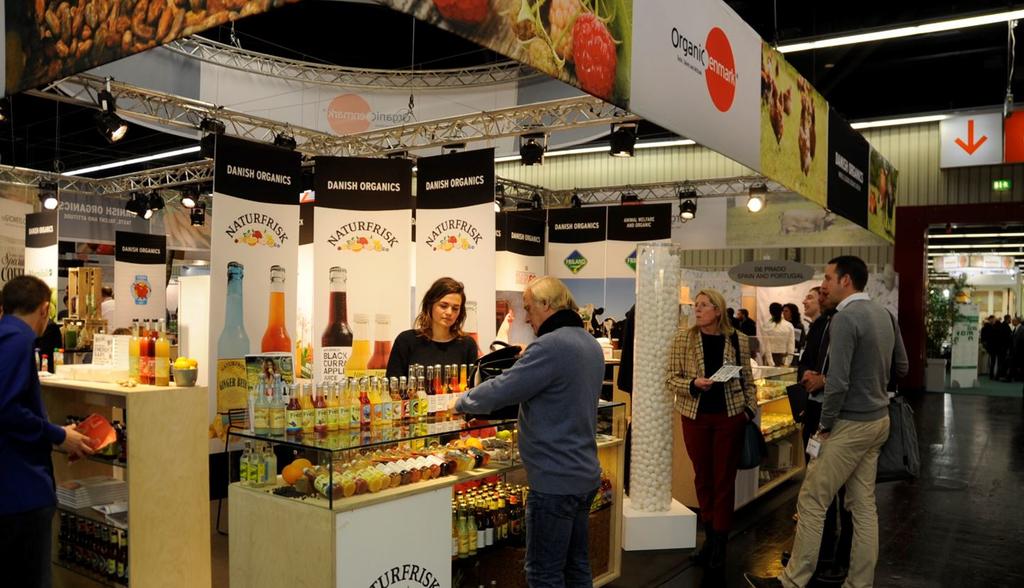 News
Record-setting participation at organic export initiative
When the world's biggest organic trade fair, BioFach 2016, once again opens its doors in February it will be with a record-setting Danish participation. Organic Denmark (Økologisk Landsforening) is together with the network Bio Aus Dänemark responsible for the, to date, biggest organic export initiative. The organic joint stand will represent 46 Danish companies - and will be ready to welcome buyers from all over the world.
In February, Organic Denmark will combine its forces with the network Bio Aus Dänemark and carry out a record-setting export initiative. The goal is to expand the organic export even more.
Among the 46 companies at the joint Danish stand you will find products ranging from organic dairy products, eggs and meat through flower, raw-bars, soft drinks, marmalades to pickled vegetables when the world's biggest organic trade fair, BioFach, takes place from 10-13 February 2016 in Nuremberg.
- Denmark is the world's leading organic nation, and this creates a great international attention. The Danish companies are well known for their wide range of innovative and high quality organic products. We expect that several buyers from international grocery chains and wholesalers will pay the joint stand a visit and we hope that the export initiative will lead to more crucial export agreements, says International Marketing Director Helene Birk from Organic Denmark.
The organic market share of the total food sales in Denmark is 7.6 percent, which is a world record.
Twelve Danish Debutants at BioFach
- The participation at the Danish organic stand has been overwhelming and 12 out of the 46 companies are debutants at BioFach. In general, there is a much larger participation of companies than the years before. This is a clear sign of a very export eager sector that generate growth and employment in Denmark, says Helene Birk.
Malene Aaris, Export Adviser of Bio Aus Dänemark gladly confirms this statement.
- We have several years of experience in planning export initiatives for Danish organic companies at BioFach, and it is very positive that the interest for participating is increasing. The big Danish joint stand will give organics a stronger position at the fair, estimates Malene Aaris.
In 10 years, the Danish export of organic products has increased seven fold. In total, the Danish organic producers have exported goods for 230 million Euro in 2014, which is an increase of 12% compared to the year before. Organic Denmark expects that the organic export as a minimum will reach 400 million euro in 2020.
See the list of Danish companies that participate in BioFach 2016.
For further information:
Helene Birk, International Marketing Director, Organic Denmark, +45 23 30 00 10 – hbi@okologi.dk
Malene Aaris, Export Adviser, Bio Aus Dänemark, +45 51 96 70 75 - malene.aaris@c.dk