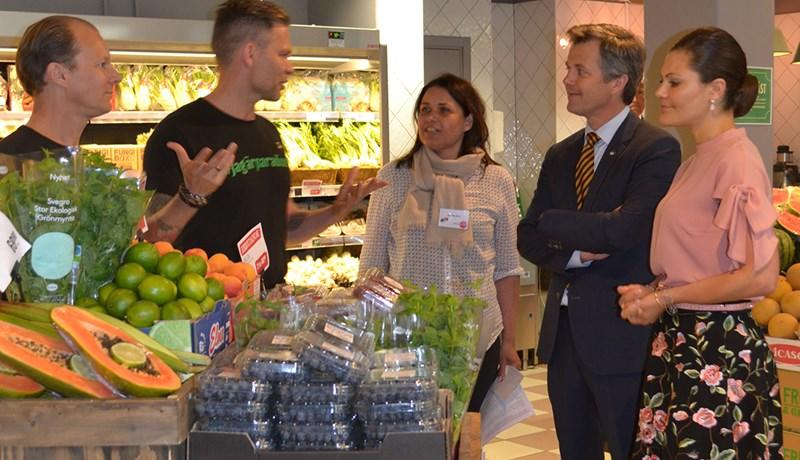 News
Royals are introduced to Danish organics in Sweden
Tomorrow Organic Denmark introduces H.R.H. Crown Prince Frederik of Denmark and H.R.H. Crown Princess Victoria of Sweden to the work with displaying Danish organics on Swedish shop shelfs. This event takes place in Stockholm in connection with the Danish business promotion 'Liveable Scandinavia'.
Many countries have developed a taste for organic goods from Denmark, and these days the organic sale is particularly booming in Sweden. Accordingly, the export of Danish organics to Sweden has more than doubled in five years – from 165 million DKK in 2010 to 397 million DKK in 2015.

Tomorrow, the work with displaying Danish organics on Swedish shop shelfs will be elaborated on by International Marketing Director of Organic Denmark, Helene Birk, during a royal visit to the Swedish organic convenience chain Paradiset in Stockholm.

– The extensive organic growth in Sweden forms the basis of a solid cooperation between the Swedish grocery sector and Danish organic manufacturers. Today, particularly organic fruit, vegetables, dairy and beverages are exported to Sweden from Denmark. In addition, as the Swedish level of demand grows in general, the demand for additional kinds of organic goods grows too. Therefore, we definitely expect that the positive development in the Danish organic export to Sweden will continue. H.R.H. Crown Prince Frederik and H.R.H. Crown Princess Victoria will gain insight into this development during their visit to Paradiset tomorrow, Helene Birk explains.
Improvement of the organic selection
Alone in 2015 the organic export from Denmark to Sweden rose by 35%, and Helene Birk explains that Swedish purchasers to a great extend look towards Denmark when searching for new organic goods.

– Danish organic goods are very attractive to a booming organic market such as the Swedish one, due to Denmark's position as leading organic nation with the world's highest organic market share, and due to the professionalism, innovation and credibility that Danish organic manufacturers represent. Organic Denmark helps Swedish convenience chains – such as Paradiset and Coop – select Danish organic goods which can make the shop supplies more interesting to the Swedish consumers, Helene Birk explains.

The Swedish consumers want more organic goods as well as a broader selection. This particularly applies to young metropolitan women – shows a study made by IPSOS for Organic Denmark.

Paradiset intends to multiply Danish organics
The royal visit to the organic convenience chain Paradiset is part of the business promotion 'Liveable Scandinavia' – an initiative where Sweden and Denmark focus on mutual learning and on building a knowledge bank on how to face challenges such as climate change with sustainable solutions, for one thing.

Paradiset cooperates with Organic Denmark on improving the organic selection of the convenience chain.

– We have met representatives from Organic Denmark on several occasions and have become quite impressed with their knowledge and network. Therefore, the organisation is a valuable business partner to us. There are many skilled organic manufacturers in Denmark, and we already offer several Danish organic goods in our shops. We believe that we will be able to multiply the number of organic goods from Denmark by strengthening the relation between Paradiset and Danish organic manufacturers, and we really look forward to being able to expand our selection, founder and CEO of Paradiset Johannes Cullberg says.
Paradiset was announced Shop Concept of the Year at Retail Awards 2017 in Sweden, and in 2016 Johannes Cullberg was elected Most Progressive Businessman of the Year in Stockholm by the Swedish trade organisation 'Svenskt Näringsliv'.
For more information
Helene Birk, International Marketing Director, Organic Denmark, phone: +45 2330 0010, hbi@okologi.dk
Johannes Cullberg, CEO, Paradiset, phone: +46(0)70-022 80 55