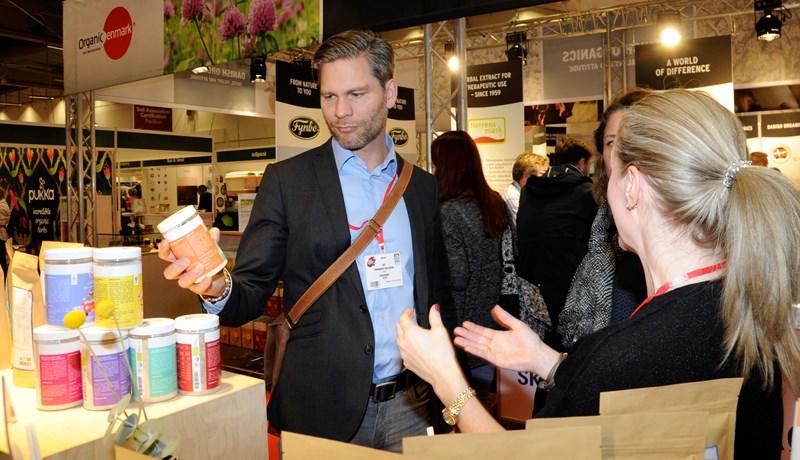 News
Swedes have a taste for Danish organic products
Swedes are buying organic products like never before, and love organic products from Denmark. Exports of Danish organic products to Swedish stores have almost doubled in just two years. Twenty-two Danish organic companies are in Malmö this week to exploit Sweden's export potential.
Never before have so many organic products been shipped across the Sound from Denmark to Sweden. Organic exports to Sweden set a record in 2015, just shy of DKK 400 million, according to the latest figures from Statistics Denmark. This is almost double the level two years earlier.

Twenty-two Danish organic companies intend to build on this trend when they visit Malmö this week. They are taking part in Organic Denmark's export campaign at the Nordic Organic Food Fair, which runs from Wednesday 15 to Thursday 16 November.

"Sweden offers considerable export potential for Danish companies at the moment. Swedish demand for organic food is rising, and they see Danish organic products as very attractive. Denmark holds the global record for organic market share and has a highly developed organic market. This means that Danish companies offer a wide range of quality organic products that are of interest to Swedish grocery stores, cafés, restaurants, cafeterias and kitchens in public institutions," says Pernille Bundgård, International Market Director at Organic Denmark.

She notes that organic dairy products, vegetables and fruit are the key exports to Sweden. Exports of organic fruit and vegetables have risen 160 per cent over the last two years.
Companies also see potential in Sweden
The 22 Danish companies taking part in the export campaign will present everything from organic dairy products, vegetables and poultry products to liquid herbs, bean pasta, instant porridge and snacks.

One of the companies taking part in the export campaign is organic dairy Thise Mejeri.

"We are attending the Nordic Organic Food Fair for the first time because we see great potential to expand our exports of organic cheese and butter to Sweden, in particular. The Swedish retail and food service sectors are both of interest to us, making this the right trade fair to attend. We expect to gain a handful of good contacts we can follow up," says Peder Gerhardt Jessen, Sales and Marketing Director at Thise Mejeri.

Møllerup Brands from Rønde, which produces a range of organic hemp products in cooperation with organic farmers and producers, is also attending the fair for the first time.

"We introduced the first organic variants of our products this year because we are seeing strong demand for organic products. We see huge potential in the Swedish market, which numbers many vegans, who are generally very interested in the nutritional benefits of hemp," says Henrik Rendbøll, CEO of Møllerup Brands, who will be presenting roasted organic hemp seeds, hemp oil, granola and pesto containing hemp to purchasers at the fair.
Organic sales in Sweden are expected to reach SEK 27.4 billion this year, having roughly tripled over five years. This is the forecast from a report from Swedish Ekoweb, which has monitored and analysed the Swedish market for several years.
Danish organic food success on conference programme
On 15 November, attendees at the Nordic Organic Food Fair can see Paul Holmbeck, Director of Organic Denmark, present on how Denmark has achieved its position as the world's leading organic nation through proactive market cooperation and innovative organic policy.

Interest in the Danish organic model is intense. Over the past four years alone, over 28 countries – from Norway and China to Bhutan – have been in contact with Organic Denmark to discuss Denmark's experience with developing organic products, both in the market and in policy.