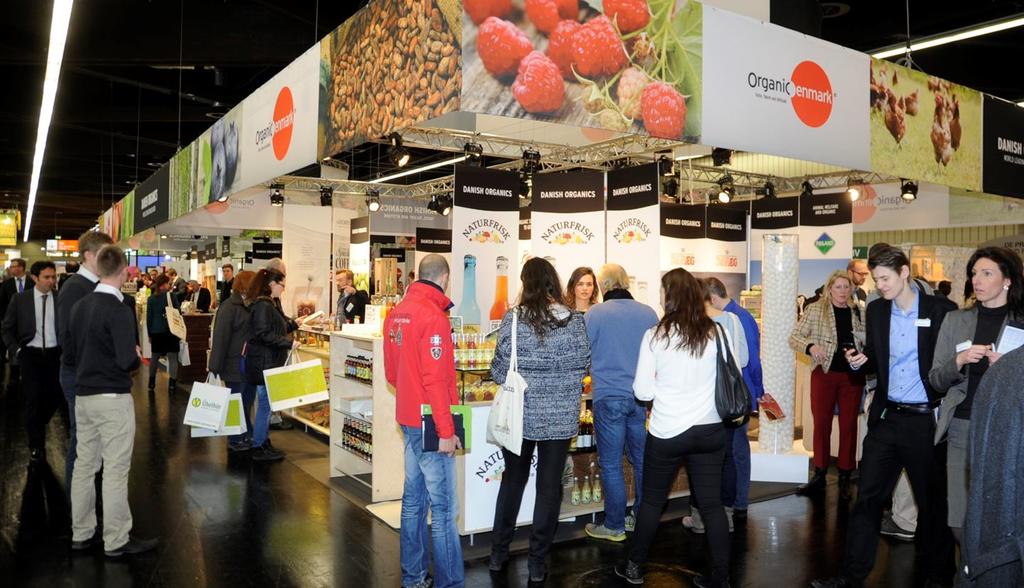 News
The export of Danish organics sets a new record
The steep growth rate for Danish organic export continues to go upwards, shows new numbers from Statistics Denmark. In 2014, Danish companies sold organic products abroad for 1.721 million DKK, which is an increase of 12% compared to the year before. Organic Denmark expects that the organic export as a minimum will reach three billion DKK in 2020.
For the ninth year in a row, the export of Danish organics sets a record, and so the export has approximately increased sevenfold in 10 years. This appears from newly published numbers from Statistics Denmark. In total Denmark exported organic products for 1.721 million DKK to nearby as well as faraway export markets in 2014. Resultantly, the organic export has increased with 12% in one year.
- Organics has had a breakthrough in the retail sector as well as in the professional kitchens in many countries - and the development only continues in one direction: Upwards! Because of our long-time experiences with organic production, Danish organics is popular in foreign countries. Denmark has the world's highest organic share of the total food sales. Among other things, this means that the Danish companies can contribute to a wide selection of innovative, organic products, says Helene Birk, International Marketing Director in Organic Denmark, who also estimates that the positive development will continue.
- We expect that the Danish export of organic products will continue to increase at least 10 percent each year in the coming years and thereby reach minimum three billion DKK in 2020. This development is very beneficial for both the growth rate and the job creation within the green sector - and not least, the Danish environment, nature and groundwater, Helene Birk points out.
The export spreads out to several categories
Germany is still Denmark's biggest export market and makes up 48 percent of the total export. Meanwhile, Sweden stands for the biggest increase in 2014 and now makes up 17 percent of the total organic export from Denmark.
The export of organic dairy products and eggs still carry the most weight in the statistics and make up 51 percent of the export. This is a tenfold increase since 2005. The export of organic fruit and vegetables has increased notable from 120 million DKK in 2013 to 210 million DKK in 2014 - which corresponds to an increase of 75 percent.
According to Helene Birk, minimum 70 percent of the Danish organic companies are engaged in export today.
- The foreign interest for Danish organics spreads out to several categories as well as companies. Processed products such as frozen vegetables, beverages, snacks, baby products and in general organic convenience products are increasing - although from a very low level, explains Helene Birk.
Organic instant porridge is a success in the Netherlands
One of the Danish organic companies that are successful in the export of exactly this kind of organic products is Aurion A/S.
- About a year ago, we launched an organic instant porridge as an export product, and things have been going really fast ever since. Today, the products are sold in more than 1000 shops in the Netherlands, and we definitely see an opportunity in expanding the export to other countries as well. In general, we experience a great interest for organic high-quality convenience products. The trend shows that the consumers want products that are good and healthy as well as convenient and quick to prepare, says Brian Tholstrup Nybo, managing director of Aurion.
In 2014, the import also increased with 9 percent.
Read more about the new export numbers from Statistics Denmark.
Growth in the Danish organic export 2003-2020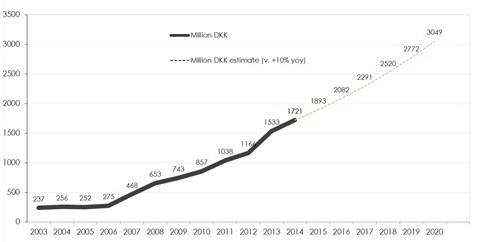 Source: Statistics Denmark and estimates from Organic Denmark
Contact Information
Helene Birk, International Marketing Director, Organic Denmark, +45 23 30 00 10, hbi@okologi.dk
Brian Tholstrup Nybo, Managing Director, Aurion, +45 98 96 34 44 - brian@aurion.dk
Line Skouboe, Press Officer, Organic Denmark, +45 87 32 27 14 / +45 24 42 69 52, lsk@okologi.dk