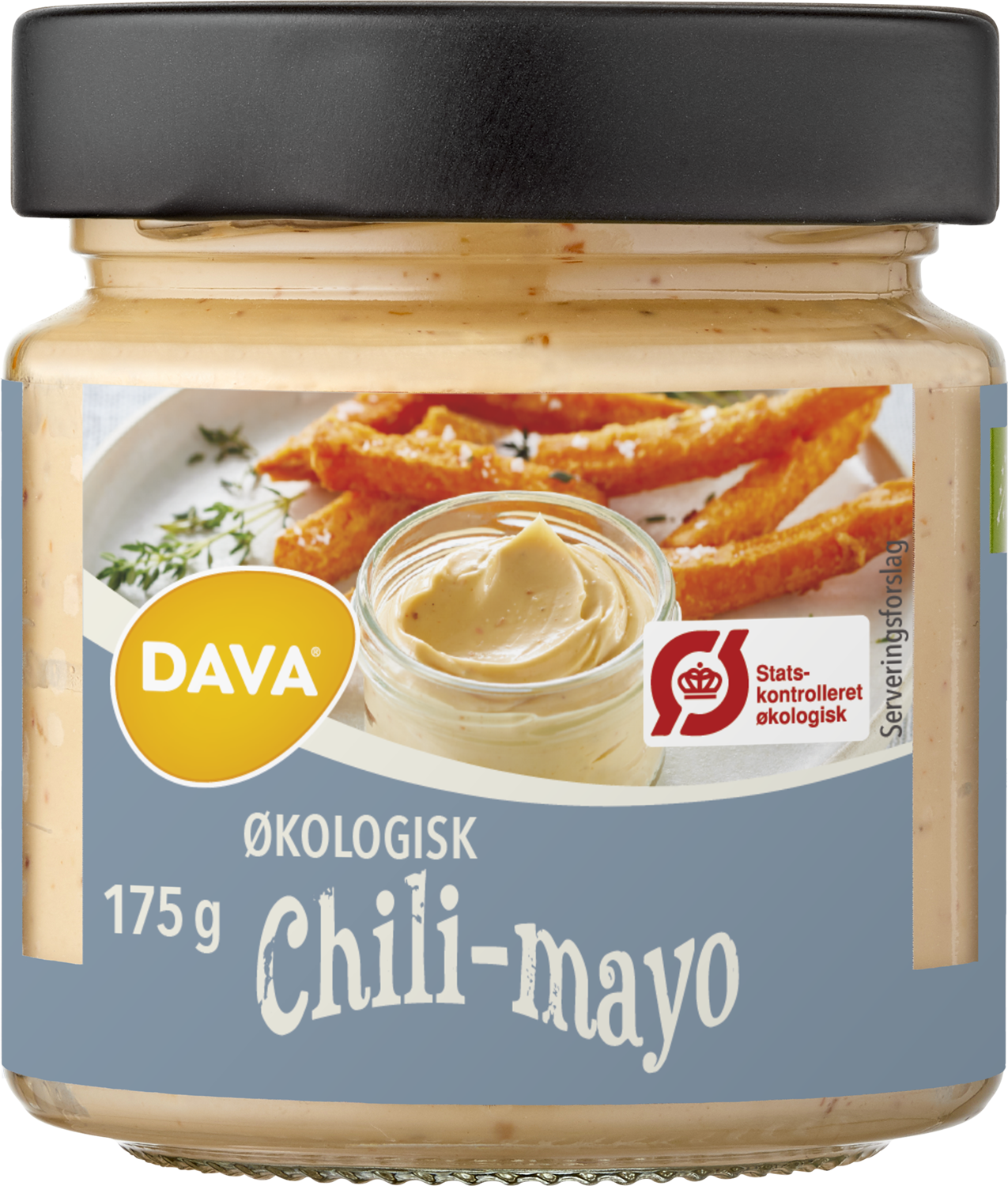 DAVA Organic Chili-mayo 175 g.
DAVA Organic Chili-mayo – 10% egg yolk and no preservatives
Chili-mayo is mayonnaise seasoned with chili. Our organic chili-mayo contains smoked chili, chipotle, and chili sauce that gives the mayo its spicy flavour. 
DAVA chili-mayo is produced with quality ingredients: organic rapeseed oil, egg yolks from eggs laid by organic hens and organic seasoning. Our chili-mayo contains 10% egg yolks and no preservatives. 
How to use chili-mayo
Chili-mayo can be served for a variety of dishes. It is well suited for serving with dishes such as burgers and sandwiches, e.g. to spread the bun or as dip for the French fries. The chili-mayo is suitable for serving with both classic French fries and sweet potato fries. Our chili-mayo is also suited for sushi, e.g. as topping for Alaska rolls, or the chili-mayo can be used as dip for deep-fried food such as tiger prawns and spring rolls. Chili-mayo can also be served as an appetizing dip for snacks such as crunchy vegetables and crackers.
Jens Madsen
Export & Foodservice Director
Phone: (+45) 2333 4858
Whatsapp: 4915221992292
Let's meet online
Book Your
Online Meeting
This meeting service is
for interested buyers only!
We will send you a booking confirmation and the requested product samples
before our meeting. Booking a meeting is, of course, obligation free.
Uploads fra DAVA Foods
DAVA Foods 1/3
Basic info
| | |
| --- | --- |
| Net weight: | 175 g |
| Produced: | Produced and packed in DK |
| Ean/gtin: | 5701607589190 |
| Storage: | 4 °C |
Nutritional content pr. 100 g
| | |
| --- | --- |
| Energy: | 3014 kJ/721 kcal |
| Fat: | 80 g |
| Including saturated fatty acids: | 6.6 g |
| Carbohydrate: | 1.3 g |
| Of which sugars: | 1.0 g |
| Protein: | 1.7 g. |
| Salt: | 0.60 g. |
Ingredients
Rapeseed oil (77.2%)*, pasteurised egg yolks (10%)*, water, vinegar*, chili sauce* (red chili pepper* | water | vinegar* | salt | unrefined cane sugar*| citric acid), chipotle*, cane sugar*, spice mix* (tomato* | garlic* | basil* | paprika* | olive oil*), chili flakes* , * = organic