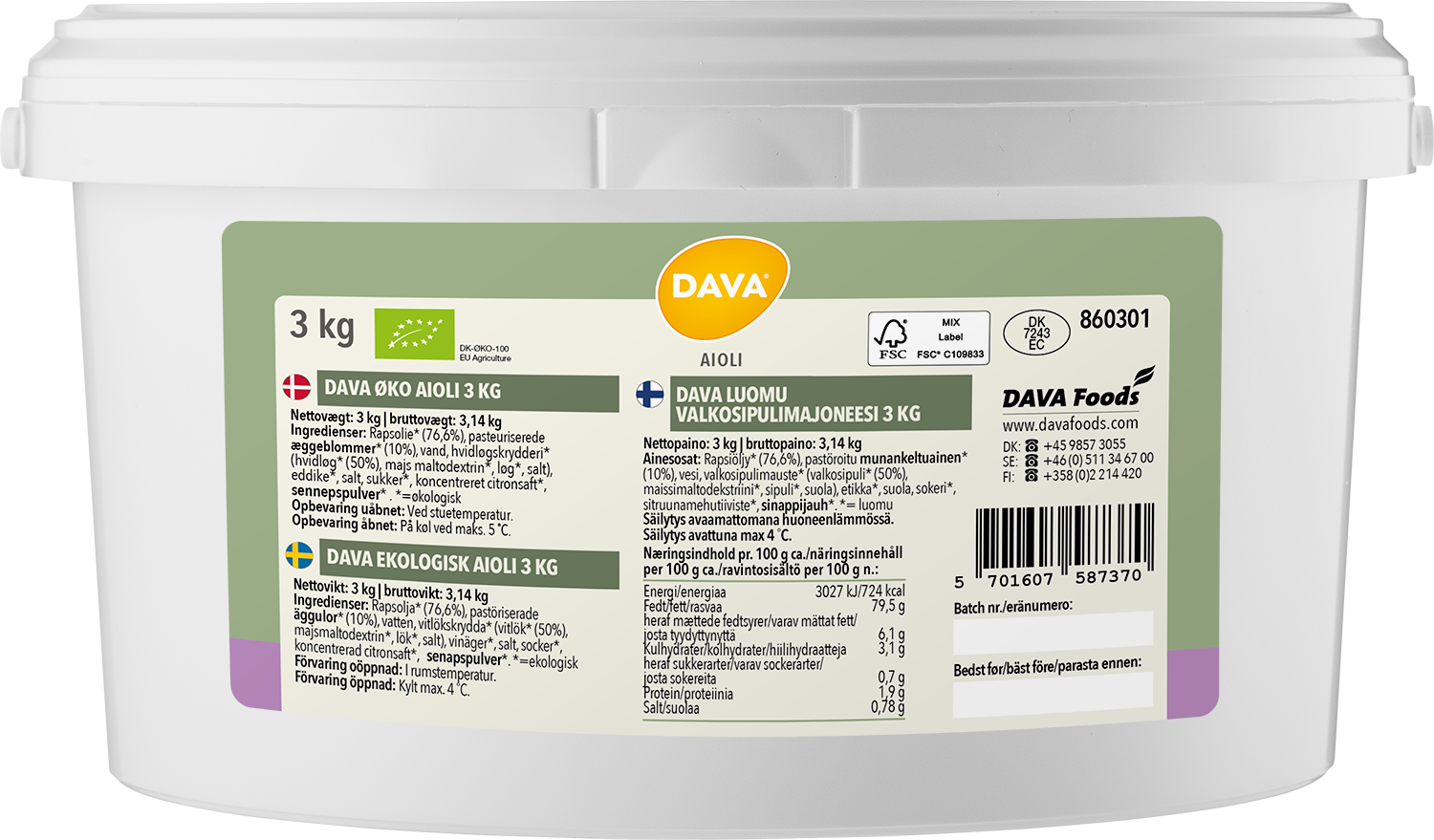 DAVA Organic Aioli 3 kg
DAVA Organic Aioli – 10% egg yolk and no preservatives
Our aioli is produced with quality ingredients: organic rapeseed oil, egg yolks from eggs laid by organic hens and organic seasoning. Our aioli contains 10% egg yolks and no preservatives.
What is aioli? 
Aioli is an emulsified, cold sauce with garlic seasoning - a variety of mayonnaise. Aioli originates from the Mediterranean cuisine around Spain and France but is today sold and used in most of the world.
How to use aioli 
Aioli can be served for a variety of dishes. One of the most traditional uses is as a dip for tapas, it could e.g. be for dishes such as patatas bravas, pinchos or albondigas. Another classic serving is as a sauce for moules frites, scallops in white wine with French fries.
Aioli can also be served as an appetizing dip for snacks such as crunchy vegetables, crackers, and crispbread, or it can be served with French fries. It can also easily be used as a spread for sandwiches and burgers.
Jens Madsen
Export & Foodservice Director
Phone: (+45) 2333 4859
Whatsapp: 4915221992292
Let's meet online
Book Your
Online Meeting
This meeting service is
for interested buyers only!
We will send you a booking confirmation and the requested product samples
before our meeting. Booking a meeting is, of course, obligation free.
Uploads fra DAVA Foods
DAVA Foods 1/3
Basic info
| | |
| --- | --- |
| Net weight: | 3 kg |
| Produced: | Produced and packed in DK |
| Ean/gtin: | 5701607587370 |
| Storage: | 4 °C |
Nutritional content pr. 100 g
| | |
| --- | --- |
| Energy: | 3027 kJ/724 kcal |
| Fat: | 79.5 g |
| Including saturated fatty acids: | 6.1 g |
| Carbohydrate: | 3.1 g |
| Of which sugars: | 0.7 g |
| Protein: | 1.9 g |
| Salt: | 0.78 g |
Ingredients
Rapeseed oil (76.6%)*, pasteurised egg yolks (10%)*, water, garlic seasoning* (garlic* (50%) | maize maltodextrin* | onion* | salt), vinegar*, sugar*, concentrated lemon juice*, mustard powder* , * = organic