Facts & figures about Danish organics
18 June 2019 by: Louise Kaad-Hansen
The Danish consumers are the most pro-organic consumers in the world. In fact, Denmark has the world's highest organic share and the most well-developed organic market.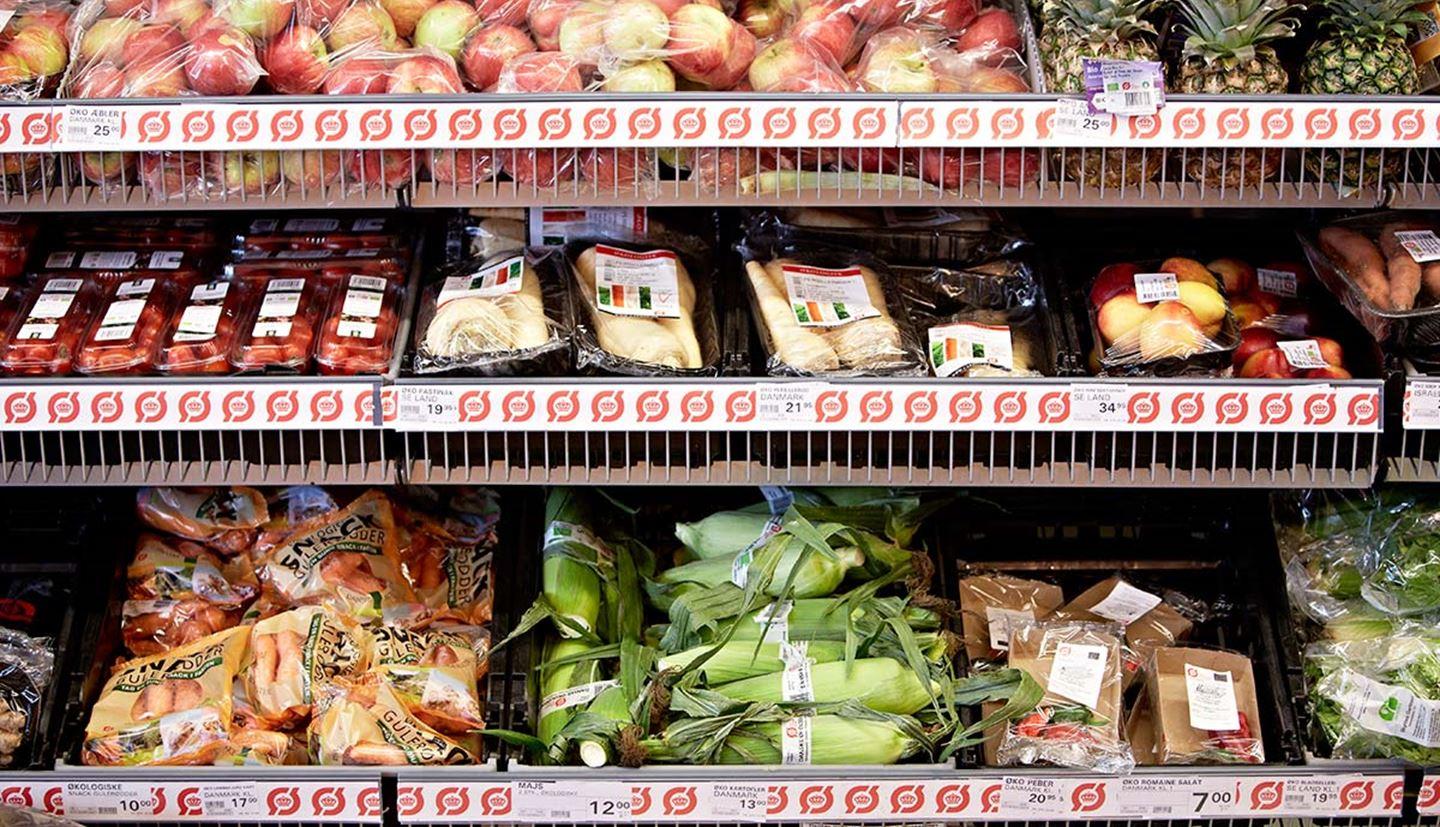 Organic sales in Denmark continue to set a record. For instance, from 2017 to 2018 the organic food sale increased with 14 %. Moreover, more than half of the Danes – more specifically 51.4 percent – buy organic food every single week. The unique and governmentally certified Ø-label has been very important for the widespread success that organic food products have achieved in Denmark.
The table below illustrates the development of the Danish, organic market share from 2005 till 2018.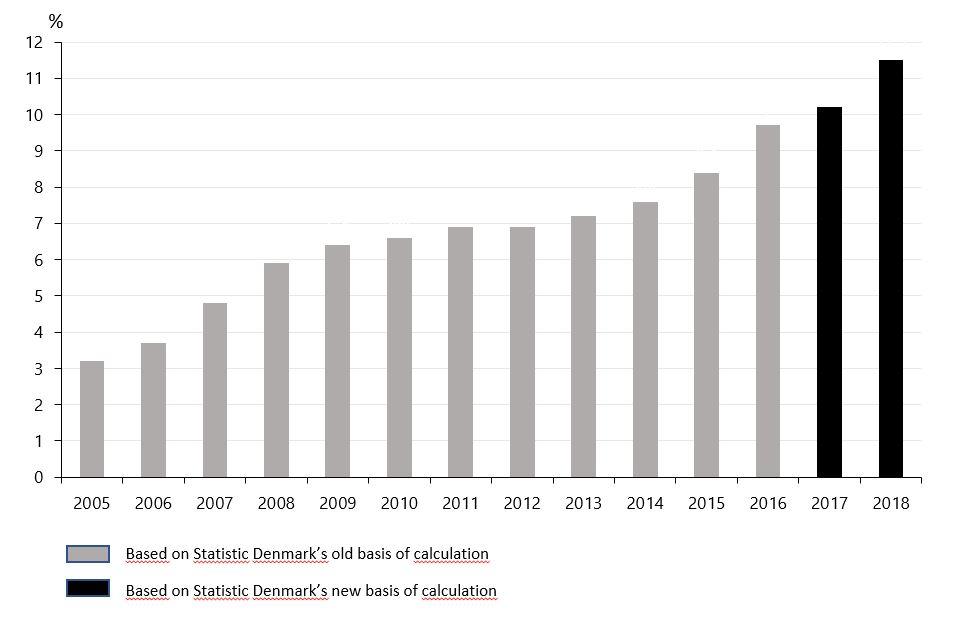 Source: Statistics Denmark 2018. Please pay attention to that Statistics Denmark has changed their basis of calculation from 2017 and onwards. This means that it is no longer possible to make a direct comparison to the numbers from previous years.


The highest organic market share in the world
Today, Denmark is the country in the world where the sales of organic products make up for the largest part of the overall sales. 11.5 percent of the Danes' grocery shopping is organic and this is the largest share compared to any other country in the world. Sweden comes in second followed by Switzerland on a third place.
Source: FiBL 2018
The organic sale in Denmark
The 10 most popular, organic products of Danish consumers anno 2018 are:
Carrots (47.6%)
Oatmeal (42.6%)
Natural yoghurt (40.2%)
Cooking/ salad oil (34%)
Milk (32.5%)
Bananas (32.5%)
Flour (31.4%)
Eggs (31.1%)
Baby food and infant formula (30.2%)
Oranges (29.5%)
Source: GfK ConsumerScan
The table below shows the value shares of the total, organic turnover per category in 2018.
Fruit and vegetables make up one third of the organic sales in the retail sector and thereby constitutues the largest organic product category. This is followed by dairy, that makes up one fifth of the organic sales. In general, most product categories have achieved a high organic market share.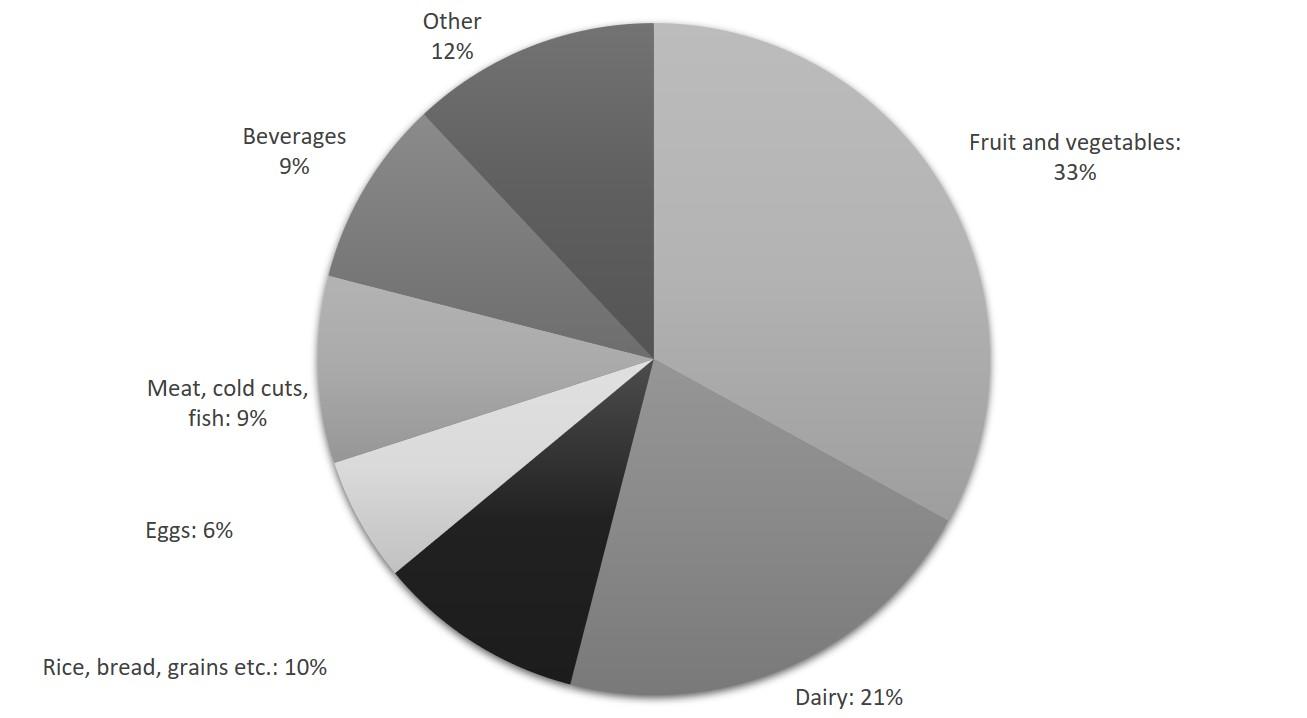 Source: Statistics Denmark 2018
Sales channels of Danish, organic food
The Danish retail sector including the booming online sale make up for the largest part of the total organic sales. In total, Danes buy organic products for 16 billion DKK which is divided between the different sales channels as illustrated below.
| | |
| --- | --- |
| Sales channels | 2018 |
| Grocery sector incl. online sales | 12.9 billion DKK |
| Foodservice | 2.5 billion DKK |
| Mini Markets and misc. | 0.6 billion DKK |
| | |
Source: GfK ConsumerScan 2018


The Export of Danish organic food by country
Danish organics are not only for Danes. In fact, foreign demand for organic products from Denmark is at an all-time high, and exports of Danish organic products amounted to DKK 2,951 million in 2017. Our biggest export markets are in our neighbouring countries. And according to Statistics Denmark, Germany is still the largest export market for Danish organic enterprises and represents 42% of total exports. This is followed by Sweden (16%), China (10%) and France (7%).
Organic dairy products constitute by far the largest export segment
The most popular, exported, organic product category is dairy, including eggs, with a total export rate of 42%. In general, most organic product categories have experienced an increase in export.
The figure below indicates the export of Danish organic products per category in 2017.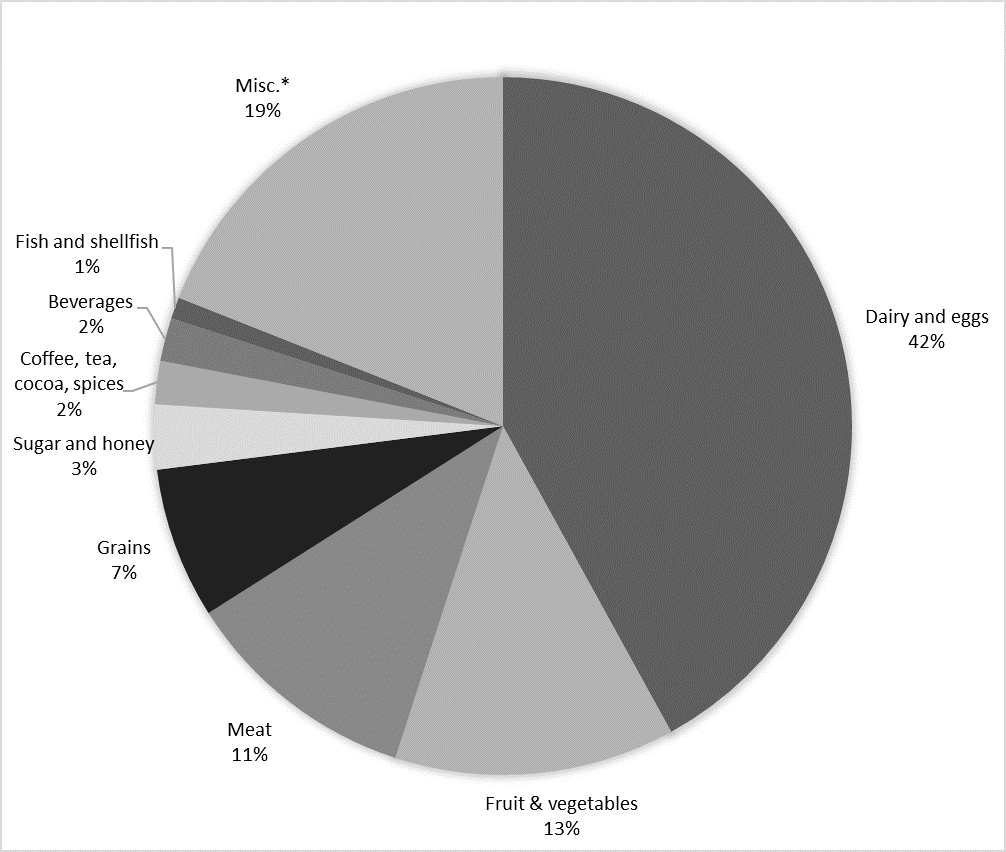 Source: Statistics Denmark 2017
*Vegetable and animal Oils, other foodstuff, etc.


Danish Organic Export Reach New Heights
As a result of the growing appetite for Danish organic products abroad, Danish organic exports are setting a new record. Figures published by Statistics Denmark show that exports of Danish organic products amounted to DKK 2,951 million in 2017. This is an increase of 21% in one year. It means that Danish organic exports have nearly doubled in four years. See the below figure.
A high standard of food safety, quality and a unique control system are the main reasons why the export of organic food have increased in recent years.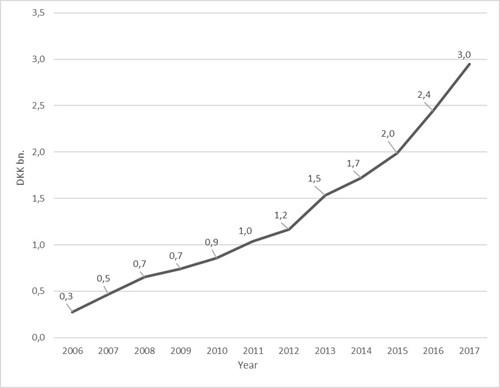 Source: Statistics Denmark 2017