PLMA 2020
PLMA Amsterdam has postponed the fair until December 2020
Join our organic exhibitors online and connect directly today
As never before, consumers are asking for high standards of food safety. Organic products are a part of the solution and Denmark offers a unique control system from farm to fork.
This is your platform for gathering inspiration and insights about the Danish organic products and producers you can meet at our stand in December - or online now. Explore the opportunities and expand your organic private label business.
Book a meeting
exhibitors
Meet our innovative Danish co-exhibitors and check out their profiles and organic product ranges.
"It has always been very exciting to visit the Organic Denmark stand at various fairs throughout the world to see and experience the new trends and energy from the Organic sector in Denmark.
We have gained lot of valuable knowledge that has helped us in building up our organic portfolio and also acquiring several trustworthy suppliers from Denmark, that we are very proud to represent in Iceland.
I can therefore give Organic Denmark my best recommendations and would encourage everyone that are interested in the organic sector to follow Organic Denmark in their future activities."
Páll Hilmarsson
Managing Director of Marketing
Innnes Ltd, Iceland
information
Organic Denmark is instrumental in helping companies work professionally with retailing, and advises individual retailers on developing their organic marketing strategies, expanding their organic product lines, holding in-store events and on the PR. Feel free to book a meeting with us or directly with one or more exhibiting companies. We are ready to meet your online.
Check also our Export site with + 500 organic products from Danish companies.
Organic Denmark contact person: Pernille Bundgård, pbs@okologi.dk, +45 6059 5313
About PLMA
PLMA is an important meeting place for conventional and organic companies as well as leading buyers. Last year's PLMA show presented 2,700 exhibitors from 71 countries and more than 16,000 unique visitors from 120 countries.
Due to the corona situation, PLMA Amsterdam is postponed until December 2020. Corona virus and private label: Join PLMA Live for a special report on the impact of coronavirus on the private label industry.
Date: 2–3 December 2020
Where To Find Us: In hall 7 (food section)
Get your ticket: Please feel free to contact us to get a free entrance code
See more about PLMA: https://www.plmainternational.com/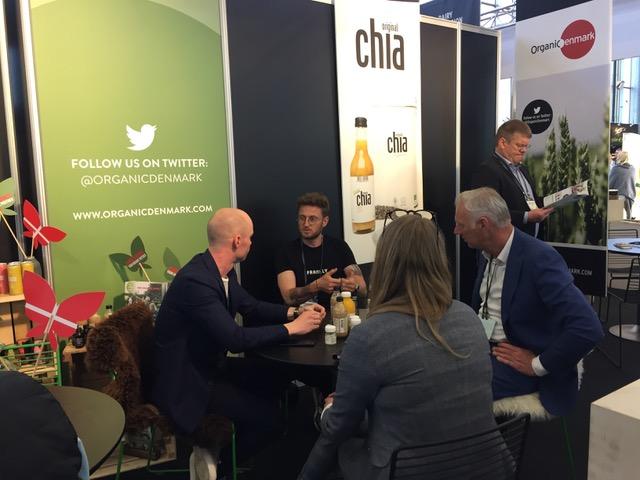 ---
Want to book an online meeting, get more information or request samples before PLMA?
today
The organic joint stand at PLMA 2020 is supported by the fund Økologisk Landbrug (FØL).