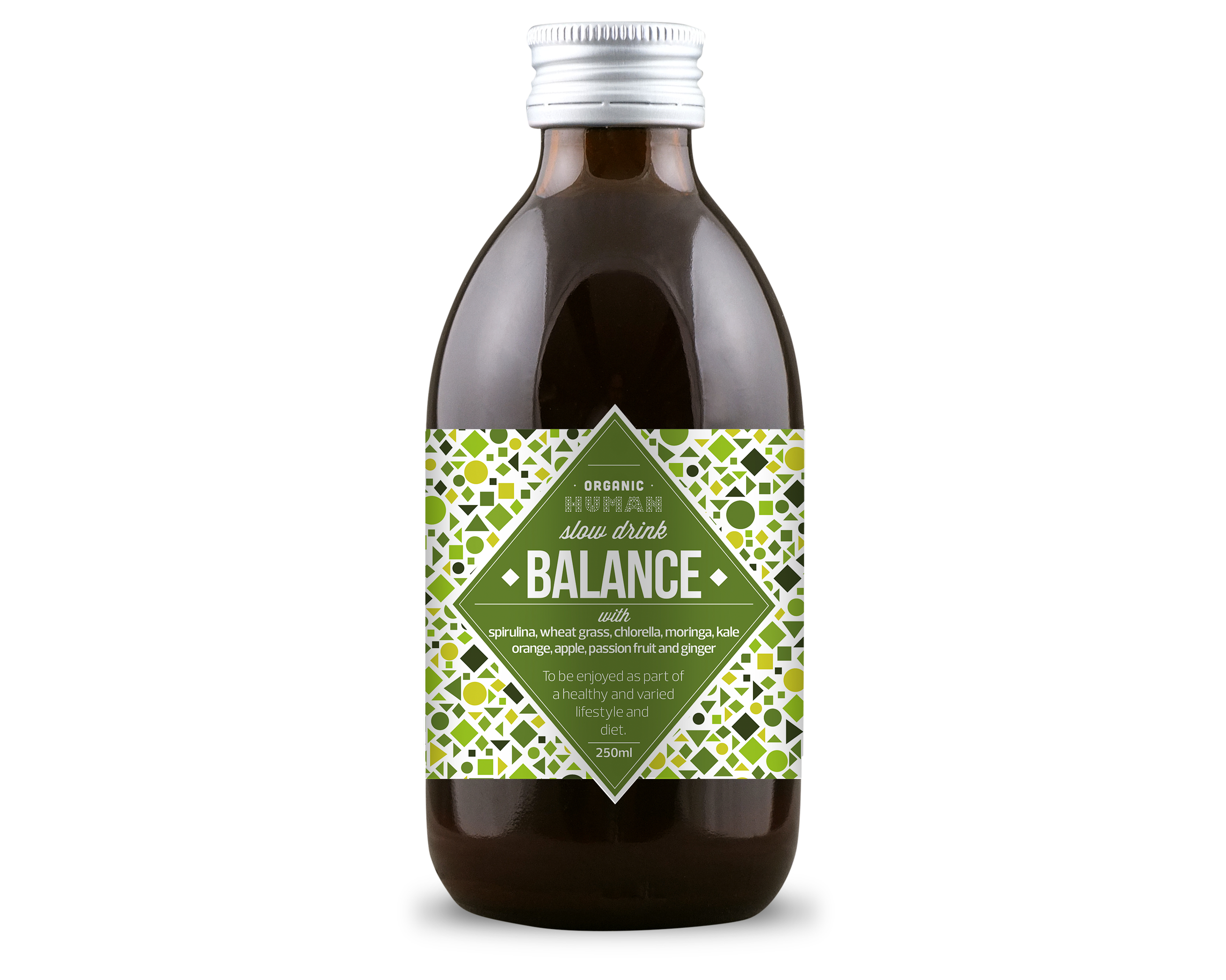 Organic Human Slow Balance 250ml
Slow drink – an organic juice, and yet, so much more. We are proud to introduce to you, a juice where we have already added our Raw Blend. These juices are named after our Raw Blends. The best of the best all in one. Raw Blend and Slow drink. Organic Human slow drink is created to respect your valuable time. We know that as the world evolves, time consuming lifestyles do not always allow us the privilege to mix, blend and juice at home. For these busy days, where time is a challenge, our ready mixed, easy to grab juice is an excellent choice. The mixture of these ingredients allows your body to achieve health and vitality.
Balance Spirulina, wheatgrass, chlorella and barley grass. Orange, apple and passion fruit are the ground elements. These fresh fruits add a fresh and a delightful flavour, the fruits spike up the very green taste from the Raw Blend "Balance". To top it all off, we have added gingerroot. The colour is one of its kind, however the taste and the feeling after consuming this Slow drink says it all. To make sure you get full benefit from the product, always remember to shake well before use, as some of the extracts tend to fall to the bottom of the bottle.
Basic info
| | |
| --- | --- |
| Net weight: | 250 ml |
| Ean/gtin: | 5707535002367 |
Nutritional content pr. 100 g
| | |
| --- | --- |
| Energy: | 189kJ/45 kcal |
| Fat: | 0.5 g |
| Including saturated fatty acids: | 0 g |
| Carbohydrate: | 9.5 g |
| Of which sugars: | 9.3 g |
| Protein: | 0.5 g |
| Salt: | 0 g |
Ingredients
orange juice* 48%
water
apple juice* 22%
passion fruit juice* 4%
ginger juice* 1%
chili extract* 0.5%
moringa* (10g / l)
spirulina* (8.4 g/l)
chlorella* (0.4g/l)
wheat grass* (0.4g/l)
barley grass* (0.4g/l)
kale* (0.4 g / l)
* Organic